March 15, 2021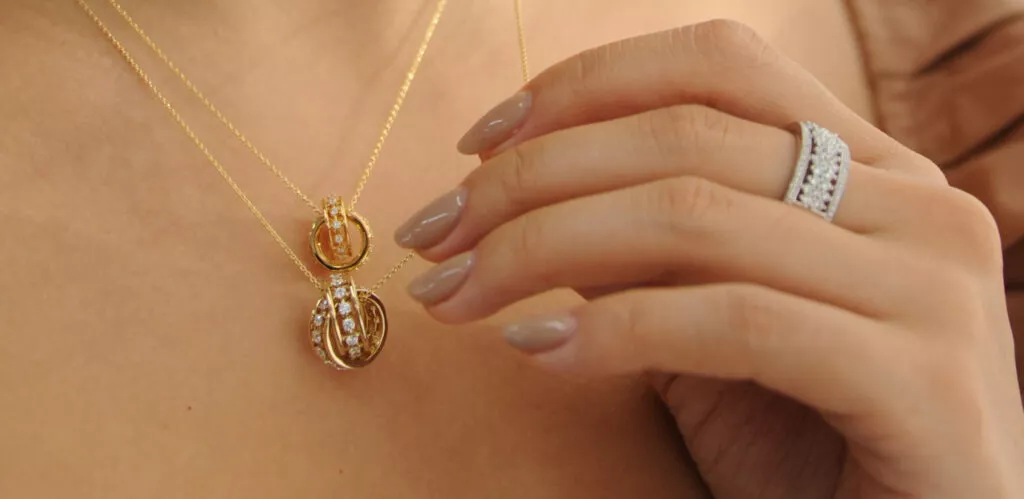 Once upon a time, we shopped for beautiful jewelry in person, browsing delicate wares in brick-and-mortar stores. Remember those days? The global pandemic has been keeping people at home and forcing us to reconsider our in-store shopping habits in ways that will likely last for a long time. Luckily, luxury companies are constantly reinventing themselves to keep us bejeweled, even while we're staying safe at home.
Shopping online isn't just a viable option these days, it's a highly desirable one. With that said, with a keen eye and a little extra attention, shopping online can be just as glamorous and exciting as shopping in-store. Here are some tips to help you shop with confidence:
Why do people shop for jewelry online?
There are countless advantages to shopping for new jewelry online. It may seem intimidating to invest in an expensive piece of jewelry without seeing it in person first, but shopping for jewelry online has its upsides!  
Convenience is key
For starters, it's ultra convenient. You don't have to carve out a chunk of time to get yourself to a shop. We all know that shopping online doesn't require much time or effort—or for you to change out of your yoga pants. Plus, you don't need to visit multiple places to browse different brands. Simply click your way from one website to another, or tab back and forth to compare pieces that land at the top of your wishlist.
With the power of the internet at your fingertips, it's easy to do your due diligence before making a purchase. You can research a piece's materials, dig into brands' sourcing and sustainability policies, and read customer reviews to make sure you're buying quality items that meet your standards. When you're shopping online, you can even compare similar styles and stores without having to traipse across town. Plus, quality guarantees and return policies make it simple to return or exchange the jewelry if you don't love it. 
Lower costs make for lower prices
Did you know that retailers that sell exclusively online are able to offer their jewelry at lower price points? Because they don't face the costs associated with running a brick-and-mortar store (like renting a retail space, training employees, managing large teams, etc.), online jewelry shops are able to significantly lower their overhead and operating costs. That means they can pass those savings on to you! Some online shops take a different approach, but when it does work out this way it's definitely an advantage for customers like you.
Involve your friends
It's easy to ask a friend for advice when shopping for jewelry online. Simply send a link, text a screenshot, or tag them on Instagram. You don't have to second guess your decision because you can get real-time responses from the people you trust. Even better, you can take your time doing it. Linger over the details, agonize over your final decision, and crowdsource opinions from your crew, all with perfect privacy. You won't have to worry about holding up a salesperson or occupying a fitting room while you make up your mind.
What's more, it makes shopping for your friends a breeze too. It takes all the stress out of purchasing gift jewelry, because if you miss the mark they can send it back and pick out something they love. Easy returns and exchanges are critical for online jewelry businesses, so chances are it'll be easy to make things right. And if you can't decide on the perfect thing for your person, just buy them a gift card! Some online jewelry shops offer digital gift cards, while others offer physical gift cards you can ship directly to your friends.
Lots of options
Although brick-and-mortar jewelry stores are fantastic in many ways, they also face certain constraints that impact your shopping experience. Physical space limitations influence the inventory a store can have on hand at any given time, not to mention how many pieces they might be able to display at once. Then there are the security concerns that come with stocking high-price items. All of these factors might change which items a store can offer, or affect the selection they have readily available for you to look at. 
But online retailers don't face those challenges. They're able to list countless items for sale, keeping them safe and well-stocked at secure inventory centers. That allows online shops to expand the catalog of jewelry you get to browse, putting more pieces in your path and helping guide you to the perfect one for your collection.
Shop for jewelry online with a company you trust
You should feel confident before you hit "complete purchase," and that means finding an online jewelry shop you can trust. While there's no way to know every last thing about a seller, key details prove credibility, while others raise a red flag.
Learn about the company
Every online jewelry seller should have an "About Us" page. Period. Of course, the content of that page will vary, but it should be on the website—somewhere. Why? Because every credible company has a backstory!
Many established jewelry stores have started selling online in addition to offering their wares in person. If the jewelry site you're shopping on also has a trusted physical space, you know they're a brand you can trust. 
That's not to say you should only shop from a company that had a retail space first, though! There are plenty of brands that sell exclusively online. And because that's their only focus, they have sophisticated infrastructure, delivery processes, customer service help, and guarantees to make your shopping experience top-notch. 
That's all to say that you should keep company info in mind when determining where to place your trust. Look for answers to these questions:
How long has the company been in business? 

Do they have accessible contact information in case you need help? 

Do they offer quality guarantees?

Do they have a documented return policy?

Where are they located?

How do they ship items? 
Look for media coverage
Are online publications, blogs, and influencers talking about the company? If so, you'll know there are plenty of people who've had a good experience purchasing jewelry there. Of course, mentions aren't the only things that matter, but they can be an indicator that others trust that jewelry company. 
Social media is a great tool to help you determine whether or not you want to invest in a brand. If you see the company tagged in many customer photos, you know others are shopping there. Plus, candid snaps can show jewelry quality in a less-staged way than product photos online. 
What's more, inviting influencers and micro-influencers to discuss their products online is a great way for a company to actively build trust with new consumers. If an online jewelry shop has a blogger or influencer outreach program, it's a good indicator that they care about their credibility and want to help you, the consumer, trust their company.
What are others saying?
By the same token, reviews hold a lot of power when shopping online. Look for a trusted app or plugin so you know the reviews are from verified purchasers, and start reading! While you may not share the same opinions as other reviewers, it's valuable to know that verified purchasers have come before you. And that they received and loved their orders. It's a good idea to read through both good and bad reviews (if there are any!) to get an overview of other customers' experiences.
The website should be secure
It's easy to ignore security indicators when browsing online, but any site that requests your personal information needs to be safe! When you visit a website, check to make sure the URL starts with https://. The "s" stands for Secure, and it means your network connection to the site you're viewing is protected. Web browsers like Google Chrome also include a small lock icon in the URL bar right there next to the web address; when that lock is there, you can trust that your personal information will be transmitted privately to the seller. 
Also check out the cart, checkout, and credit card processing pages before you input your card number.
Here's a great resource for additional info about safe online shopping habits: click here.
The return policy matters when you shop for jewelry online
Before you make a purchase, read the return policy! An eCommerce retailer should have one documented on their site. If they don't, be sure to reach out to customer service to ask for details before placing your order. 
Here's some info to look for: 
Return period:

How long from the purchase date do you have to make a return?

Fees:

Are there any fees associated with a return? Like a restocking fee? Or will you get a 100% refund?

Shipping cost:

Is return shipping free? 

Instructions:

Should you create your own label? Print one they provide? Pack up the jewelry in the original packaging, or your own? 

Quality guarantee

: Does the company stand behind their product quality, 100%?
Look for images when you shop for jewelry online
A picture is worth a thousand words. And when it comes to purchasing jewelry online, this is especially true! Product images are essential for virtual shopping. The jewelry retailer should have accurate product images for you to check out. 
And while it may be tough to tell, try to avoid stores that overly alter their images. If you're concerned about a photoshop job or color correction, feel free to reach out and request more information from a company about their practices. 
Instead, search for brands that utilize multiple photos and video to showcase their products. Our sister company, Miki & Jane, does a good job of that. Every Miki & Jane product page features a series of images, depicting the jewelry worn by models and on its own. And their product videos help demonstrate what each piece looks like in action so you can better visualize how the jewelry might look and feel when you wear it yourself.
The more photos the better
While it's great to have a single standout photo, look for brands that include product photos from multiple angles. This ensures you see every tiny detail and will help you imagine how the piece of jewelry will fit you. For example, a side view lets you know how tall a ring setting is and whether or not it'll be comfortable on your hand. 
Plus, the back of a piece matters just as much as the front. If there's an engraved design on the back of a pendant, you'll want to see it before you buy it. The more images included per item, the better! 
Check for styling ideas
Another thing to look for: styled photos. Many companies capture images showcasing their pieces on a model or influencer, which can be a great way to get styling ideas. Scour the company blog, sign up for the email list and check out their social media accounts. Why? A brand is more likely to use these less formal photos in these places. You may miss out on helpful details if you only interact with the brand on their website while you're shopping. 
Read all the details when you shop for jewelry online
You can't get all the product info from photos and video, though. Product descriptions are key when shopping for jewelry online. Whimsical names and product stories can make it tough to determine what's marketing and what's actual product info. So, here are some of the things to look for: 
Check the details
Make sure you know all the details before you commit to a purchase! What are the dimensions of the jewelry? Are there multiple sizes? How long is the chain? Is there an option to add engraving?
Of course, if you're comfortable making a purchase without knowing every last detail, go ahead! But keep in mind that you can always reach out to a jewelry company's customer service team to ask for more info. Typically, they're happy to provide as much transparency as possible. They know you're unable to touch, feel, and try on jewelry before buying, and they want to help. With that said, if they're unable or unwilling to provide details, consider shopping elsewhere! 
Look into materials
Materials make the difference between costume, semi-fine, and fine jewelry. So it's important to take note! Know your metals. 
Solid gold or sterling silver are more valuable than plated or filled metals, and they'll cost more. Manufacturers must meet certain standards in order to call their jewelry vermeil (it has to be pure or sterling silver plated with a thin layer of gold), so it may be a good idea to look for that label if you're shopping for plated jewelry. 
Similarly, there are countless gemstones to keep track of. Your best bet is to learn about your favorites so you can distinguish between manufactured, semi-precious, and precious gemstones. This way, you'll know when a higher price point is warranted, and when it's not! 
You'll also want to consider where the materials are sourced. Sustainable materials sourced for an ethical jewelry company will likely cost more than non-sustainably sourced materials. It's up to you to determine what your priorities are when selecting jewelry online. And to determine which of those priorities you're happy to pay for!
Ask about manufacturing 
Another good thing to know: where is the jewelry made? Manufacturing promises and factory practices matter to a lot of people, and that's no different when you're shopping for jewelry online. An online jewelry company that manufactures its own jewelry in-house, for example, may have more control over quality and oversight over each step of the process. 
If you can't find any manufacturing information on a company's website, again, feel free to reach out! If the company is uncomfortable sharing where their jewelry is made, it may be time to move on.
Insist on documentation
Credible jewelry companies that make sourcing or manufacturing claims should have documentation to back up their claims. While many brands don't include this in an easy-to-locate area of their website, they're usually happy to send over info when requested. 
Documentation or certification is required when making claims about sustainable practices, sourcing details, and fine gemstone classification. For example, if a company says they get their gemstones from a mine in Colombia, they should have documentation from that mine confirming this is true. 
Or, if a jewelry company makes claims about a particular piece of jewelry—such as diamond clarity or color—they should be able to back that up with certification. 
How to shop for diamonds online
When it comes to diamonds, shopping online requires a bit more diligence on your part! You are probably already investing a lot of money into a piece of fine jewelry, but diamonds present more details you should consider before feeling confident about your purchase. 
Diamonds are classified by carat weight, cut, color, and clarity. These factors dictate the price of the diamond, so it's essential you feel confident the jewelry company is truthful in its diamond classification. 
As mentioned above, you can always request certification and documentation. Many companies choose to get stones GIA certified, and this can be a good indicator that they're top quality. But that's not the only way to get diamonds certified. However the company has chosen to go about the process, only trust companies that have independently certified their diamonds. They should be able to provide proof!
Know where to get repairs
Wear and tear is a normal part of owning jewelry that you love. The finer the piece, the more delicate it may be. So if you plan to treasure those pieces for a long time, you should be prepared to make repairs. Many online jewelry brands have their own repair policies. They want customers like you to be able to trust your investment!
And if you're looking at a perfect piece that you just have to have from a company that doesn't offer repairs, it doesn't have to be a dealbreaker. Whether the clasp on your favorite necklace breaks, a stone in your beloved's ring comes loose, or your bracelet could do with a deep cleaning, we've got you covered.
Hopefully these tips leave you feeling confident and ready to shop for jewelry online. It may seem a little intimidating to pick out a piece of expensive jewelry before you've ever held it in your hands. But as long as you're paying attention to details like these, there's no reason you can't reap all the benefits of the ways jewelry companies are innovating to bring their wares to your screen. It's definitely in their best interest to make your online jewelry shopping experience easy, comfortable, and satisfying, so in the end, that's a good thing for customers like you. Keep these tips in mind and you'll be able to make your next jewelry purchase with confidence, even if you never leave your couch.
SHARE
Ten articles before and after
All About Southwestern-Style Jewelry
Historical Jewelry: All About Ancient Egyptian Jewelry
Developed A Jewelry Metal Sensitivity? Here's What You Need To Know
How to become a more conscious jewelry consumer
5 Ways to Upgrade Your Wedding Set
The Easiest Ways to Travel with your Jewelry
Pass Along Inherited Jewelry: Find the next best home for pieces that matter (Part 3)
Top 5 Unique Ways to Display Your Jewelry
Redesign Inherited Jewelry: Breathe new life into pieces you'll want to wear (Part 2) Redesign Inherited Jewelry