January 13, 2021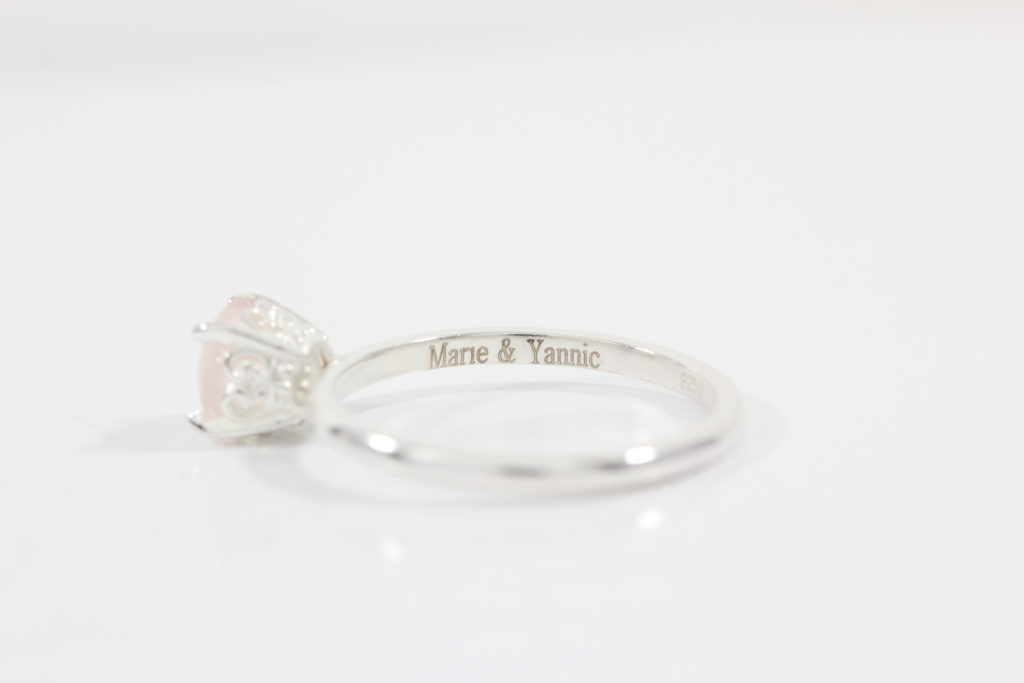 Here's what you need to know about wedding ring engraving, followed by ten engraving rings ideas to get you inspired!
What to Know Before Engraving
First, consider the size of your rings. Rings should have a width of at least 3mm. Anything less is generally considered too small to achieve a precise engraving. If the rings you have in mind are wide enough, start thinking about what you might want the ring engraving to say.
Though the exact number of characters that can be engraved will depend on the finger size, most rings can fit between 15-30 characters. Check with your jeweler about the specifics of your engraving choice, including fonts available and any special symbols it might require. Once you've confirmed this, write out what you want the engraving to say, double (even triple!) check the spelling, and hand your rings over to receive that special finish.
 Having trouble deciding what exactly you want your wedding ring engraving to say? Here are a couple of ideas to help you reflect on your relationship and get inspired:
1. Dates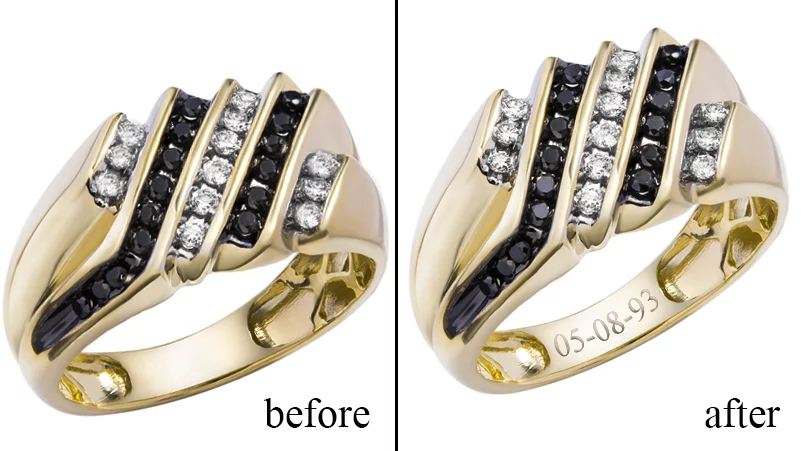 One of the most common ring engraving picks, a date is a great way to honor specific benchmarks in your relationship. Whether you choose your first kiss, the actual wedding day, or any other notable day, it's a sleek option that will fit on most rings and will always mean something special to you as a couple.
2. Coordinates
Like dates, engraved coordinates will almost always fit comfortably on the ring of your choice and are a beautiful way to commemorate the location of a first date, a meaningful trip, the wedding venue, and more!
3. A Vow
Whether you're writing your vows or sticking with something more traditional, wedding vows are a goldmine of sentimental phrases for a ring engraving, serving as a great reminder of the promises made to one another.
4. An Inside Joke
For the couple with a great sense of humor, a short inside joke or funny phrase special to your relationship is a joyful reminder to carry with you as an engraving.
5. A Favorite Quote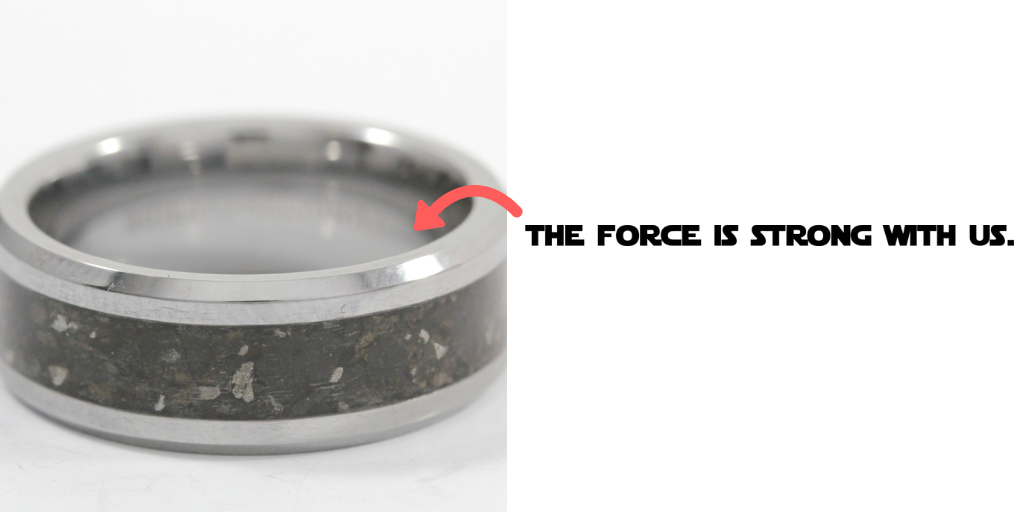 The possibilities for this are endless. Whether you're Star Wars nerds, binge-watchers, or poetry lovers, your favorite media provides vast source material for a wedding ring engraving that feels unique to your union.
6. How You Met
Did you attend school together or meet volunteering through an organization? Think about how and where you met and how to honor this through a wedding ring engraving. Try the abbreviated name of your college or a meaningful group motto. 
7. Nicknames
Do you and your partner have unique nicknames for one another? If so, consider these as an option for engraving. It serves as a deeply personal reminder of your loved one wherever you are.
8. Reference Numbers
Whether it's a reading from the wedding or a passage that resonates with you as a couple, engraving a reference number from the Bible or otherwise is a great way to get the sentiment of a longer passage to fit on your ring easily.
9. Initials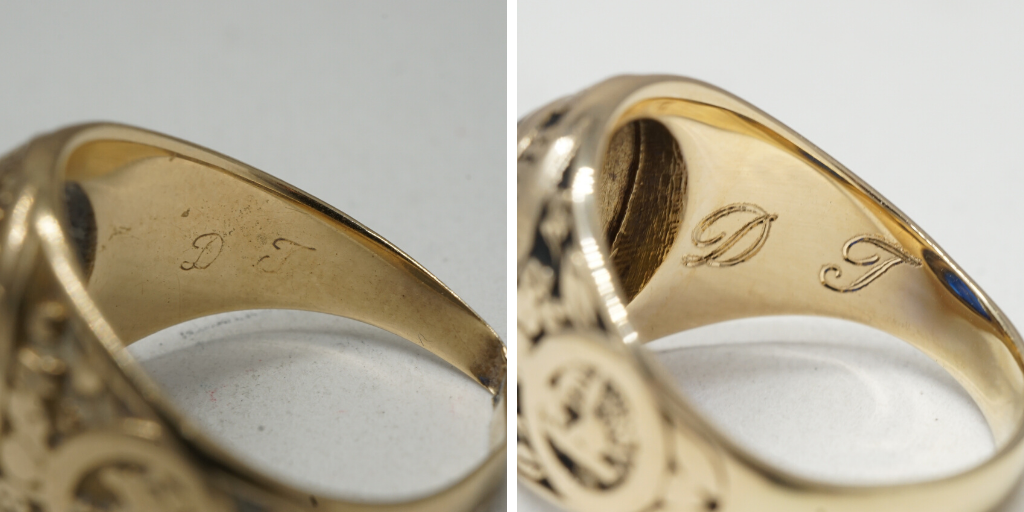 Another standard engraving, initials are an artful option to honor your spouse, your children, or other loved ones you want to always carry with you.
10. Anything You Want
The beauty of your wedding day is that ultimately it should be about what you want as a couple. So when it comes to picking an engraving for your wedding rings, there are no rules! Pick the engraving that feels right for you, and work with your jeweler to make it a reality!
Thinking about having your wedding rings engraved? Get started with a ring engraving order here or drop us a message below and we'll be happy help you.
How can we help?


— Please select one –I have a custom jewelry project in mindI would like to enquire about a repair, conversion or renovation serviceI would like to get started with a 3D CADI have jewelry and/or gemstones I need to get appraisedI would like to learn more about the custom jewelry processSomething else
SHARE
Ten articles before and after
Redesign Inherited Jewelry: Breathe new life into pieces you'll want to wear (Part 2) Redesign Inherited Jewelry
Top 5 Unique Ways to Display Your Jewelry
Pass Along Inherited Jewelry: Find the next best home for pieces that matter (Part 3)
The Easiest Ways to Travel with your Jewelry
Tips when shopping for jewelry online
How to Find the Right Wholesale Vendor for Jewelry Repairs and After Sales Service
Restore & Repair: Part 1 Of Our Inherited Jewelry Series
Different Types of Jewelry: Fashion, Semi-Fine and Fine Jewelry
7 Types of Earrings for Unpierced Ears